Trustworthy Wisdom@Work
A Repository of Wisdom from Trusted Sources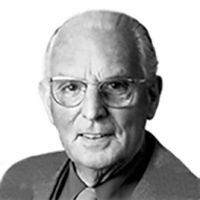 Essential Qualities of Leadership
"Now the overseer must be above reproach, the husband of but one wife, temperate, self-controlled, respectable, hospitable, able to teach, not given to drunkenness, not violent but gentle, not quarrelsome, not a lover of money. He must manage his own family well and see that his children obey him with proper respect. (If anyone does not know how to manage his own family, how can he take care of God's church?) He must not be a recent convert, or he may become conceited, and fall under the same judgment as the devil. He must also have a good reputation with outsiders, so that he will not fall into disgrace and into the devil's trap." (1 Peter 5:2-4)
Discipline
Before we can conquer the world, we must first conquer the self. A leader is a person who has learned to obey a discipline imposed from without, and has then taken on a more rigorous discipline from within. Those who rebel against authority and scorn self-discipline—who shirk the rigors and turn from the sacrifices—do not qualify to lead.
Vision
Those who have most powerfully and permanently influenced their generation have been "seers"—people who have seen more and farther than others—persons of faith, for faith is vision. . . A leader must be able to see the end results of the policies and methods he or she advocates. . . Vision leads to venture, and history is on the side of venturesome faith. The person of vision takes fresh steps of faith across gullies and chasms, not "playing safe" but neither taking foolish risks.
Wisdom
[W]isdom is heavenly discernment. It is insight into the heart of things. Wisdom involves knowing God and the subtleties of the human heart. . . Wisdom gives a leader balance and helps to avoid eccentricity and extravagance. If knowledge comes by study, wisdom comes by Holy Spirit filling.
Decision
A visionary may see, but a leader must decide. An impulsive person may be quick to declare a preference; but a leader must weigh evidence and make his decision on sound premises. Once sure of the will of God, a spiritual leader springs into action, without regard to consequences. Pursuing the goal, the leader never looks back or calculates escape strategies if plans turn sour.
Courage
Courageous leaders face unpleasant and even devastating situations with equanimity, then act firmly to bring good from trouble, even if their action is unpopular. Leadership always faces natural human inertia and opposition. But courage follows through with a task until it is done.
Humility
The spiritual leader will choose the hidden path of sacrificial service and approval of the Lord over the flamboyant self-advertising of the world.
Integrity and Sincerity
God wants His people to show a transparent character, open and innocent of guile. . . Surely the spiritual leader must be sincere in promise, faithful in discharge of duty, upright in finances, loyal in service, and honest in speech.
(Purchase Book)
Come Join Us as we learn about Spiritual Leadership
© 2007 by Oswald Sanders. Used by permission of Moody Publishers. All rights reserved.
By accepting you will be accessing a service provided by a third-party external to https://christianbusinessnetwork.com/